Photographs:
Pittsburgh Brewery Tour
We've conducted four Pittsburgh Brewery Tours: the first for Pittsburgh's Landmarks Foundation, one for the Society of Industrial Archeologists, and two for breweriana organizations. The Three Rivers Chapter of the S.I.A. published a Guidebook to the Pittsburgh Region for their convention in June of 1993 which included a section on breweries. See the Fall 1991 issue of The Keg, Quarterly Newsletter of the E.C.B.A. for pictures and commentary. The Breweriana Collector: Journal of the National Association of Breweriana Advertising, Summer 1994 was devoted to Pittsburgh breweriana. Click here for my ABA Journal story about our tours.
Lunch in the beer hall at Penn Brewery, which is housed in the old Eberhardt & Ober brewery. Pittsburgh Brewery Tour I, Sponsored by the Landmarks Foundation, 1990. Success Stories: Penn Brewery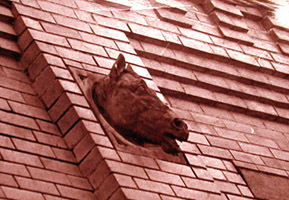 Horsehead on the wall of the stable building at the Baeuerlein Brewery in Millvale. Pittsburgh Tour II, 1991.
---
Other Photographs:
Luzerne-Lackawanna Brewery Tour
[MAIN]