Success Stories:
How We Saved the Stegmaier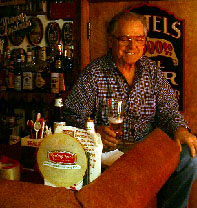 Back in the summer of 1992 Catamount B.C. hosted the E.C.B.A.'s annual convention in Vermont. At the breakfast meeting on Saturday morning, we were certain that the vote for the 1993 meeting would be for Philadelphia. Larry Handy had already begun searching for the hotel. When what to our surprise, Al Kogoy (pictured), a collector from Wilkes-Barre stood up and gave a heart-wrenching speech about saving the Stegmaier brewery in Wilkes-Barre. An E.C.B.A. convention could help raise interest and awareness in his efforts to get funding to restore a great piece of brewery architecture. Sam Komlenic stood up and advised the membership that this was something we just had to do. We sat, dumbfounded when the motion to Save the Stegmaier passed. We were disappointed that we would have to wait a year to have the convention in Philadelphia but we knew, the best decision had been made.
The 1993 E.C.B.A. convention in Wilkes-Barre gave us an opportunity to conduct our second Brewery Tour in Wilkes-Barre. The convention made the news, Al had residents signing a petition to "Save the Stegmaier." After many years of wrangling the city ended up working out a deal with the Federal government to restore at least part of the hulking plant complex and convert it into a postal distribution center. That came to fruition last year. Al Kogoy was on hand at the building dedication ceremony. Not only was he instrumental in saving one of the finest and most unique examples of brewery architecture in the United States, he located a large print of the complete Stegmaier brewery complex for display in the lobby. Next to the print is a plaque in his honor. What stood for twenty five years in ruins, has been given a new lease on life. See The Keg: Quarterly Newsletter of the ECBA, Fall 1993, for convention coverage.
Two years later, the American Breweriana Association held their convention in Wilkes-Barre, the very year the federal government earmarked $45 million to restore the brewery for use by the U.S. Postal Service. See the "Annual Meeting Review" and "Save the Stegmaier Brewery... OK!" in the American Breweriana Journal, Sept./Oct. 1995. In the same issue, see "Lion, Inc. Brewery and the Future of Breweriana" by Lee Holland. The ABA also sponsored one of our tours of the old breweries in the area.
Ruddy Heckler wrote a comprehensive article on the Stegmaier for The Breweriana Collector: Journal of the National Association of Breweriana Advertising in 1987 (issue #59) and again in the Spring, 1989 issue (volume 65) had a pictoral of some of the best Steg breweriana in his collection. Check out his website to see the pictures.
Other Success Stories:
Weisbrod & Hess Brewery: New Home to Philadelphia Brewing Company
Scheidt Brewery Now Office Park
Eberhardt & Ober Brewery: Home To Penn Brewery
Germania Brewery Now Johnstown Museum
Bube's Brewery: State's Newest Brewpub